Thank You
Klaus
and your dynamic team:
Sandy
,
Louise
,
Wren
,
The Fishing Guy
and
Sylvia
.
Founded in 1994, the Ettamogah Pub house is a cartoon inspired architecture, located in the Old Windsor Road, Rouse Hill. It is a bar with a family restaurant and provides entertainment. Its ambience is relaxed, child-friendly and contemporary.
Stepping into an Ettamogah pub can be like walking into a cartoon, with their precariously balanced and gravity-defying walls, and life-sized models.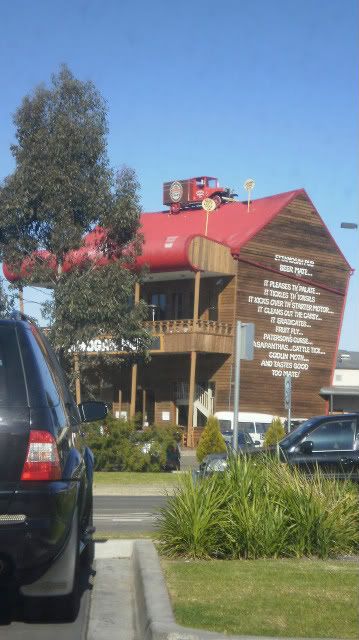 This picture was taken as we drove through McDonald's to buy Happy Meals with a Shrek thingy as bonus. No, I have never been inside this pub yet. One day maybe. Enjoy McKays hamburger with us. You see, I am a cool Grandma! I eat McDonalds hamburger! haha
Cheers!